So, with England out, the only thing to do was watch the other matches in a relaxed fashion, so neutral that I cheered on both teams each time, and dish out some awards, that mostly have very little to do with the football (other people do THAT stuff):
TATTOOS OF EURO 2012: Hhm, not much of credit here. Some quite terrible artistic decisions made, to haunt their skin for eternity. Meireles of Portugal has plenty: his arms look like they're rotting. In fact (I know this is an old photo), here he is in full-on zombie mode, trying to munch on that yummy human Ronaldo's head.
HAIR OF EURO 2012: While the old fogeys on the Beeb might scoff at boys who care about their appearance whilst being on a world stage, I am full of nothing but admiration for Wayne for using making some product before he got onto the pitch. But Hair of Euro 2012 must go to Ronaldo, who reportedly had his hair retouched up by a stylist in half-time of the quarter-finals. And why not? How else can you maintain that excellent take on the 1920s matinee idol look? Both with his impeccable coiffure and his passionate, singular leadership, he's like a glistening, heroic Rudolph Valentino-type; I can imagine him giving Oscar speeches in a thick Mediterranean accent for roles in soft-focus silent action movies about swarthy horsemen. Here is a picture of him looking mean (but with an immaculate side parting):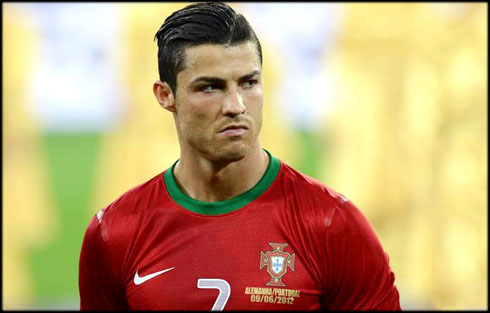 MOST HELPFUL NAME: Petr Cech. For obvious reasons.
ARTY TV ATTEMPTS: ITV's ill-judged montage sequences DURING the matches. It's not an episode of
Dawson's Creek
, you imbeciles! Better was a BBC shot of a tear trickling impossibly slowly down the cheek of a sad German lady after SuperMario's second goal in the semis.
TUNE: Dur, dur dur DUR dur dur durrr durrrr. If you can't work out what that was, you haven't watched enough of the Euros. Jack White's riff in
Seven Nation Army
kept appearing, in the crowd and over the tannoy - not even the proper version! Repeatedly. The vuvuzela of Euro 2012.
ADORABLES: Xabi Alonso of Spain and Miguel Veloso of Portugal. Men with short hair and beards = GOOD. And speaking of beards, well done to totally beardtastic team, Greece, for Services To Hirsutism in Football.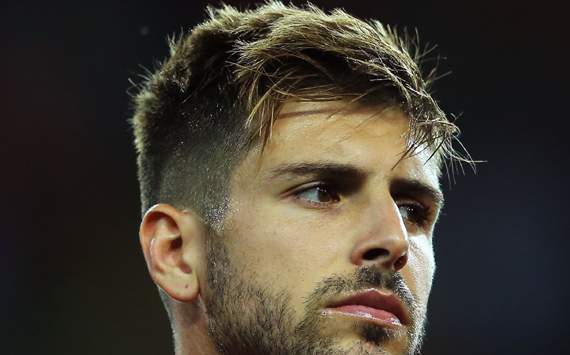 TRENDS: Beards, obviously. Muscle tape. Speeches about being nice to each other at the beginnings of matches, hurrah! Useless 5th officials. Spain being well good.
SERVICES TO POETRY:
'Posing. Preening. Prolific. Ronaldo' Jonathan Pearce, with awe
'He's a big, long, stringy thing' Jonathan Pearce on Cech, insultingly
'Usually playing Spain is death by a thousand cuts. Slice. Slice. Slice. Slice.' Guy Mowbray, darkly
'Portugal are out of their feet' Martin Keown, confusingly
SHIRTWATCH AWARD: Gianluca Vialli, showing the Northern Europeans how it's done in a no-nonsense mid-blue suit for the semis, sharp as a suck on a lemon. And he has a BEARD.

LOOKEY LIKEY: Mr Big from Sex and The City has obviously dumped Carrie for her neuroticism and shopaholic tendencies and escaped to a new life as the German manager. LOOK!